The production environment is the place where we configure the database connections that will communicate with our published applications, in addition to being the place to configure the APIs we add to our project.
It is extremely important that the production environment version is exactly the same as the ScriptCase development environment version, because whenever something new is released in a release, it will be present in the production environment that matches that released release. In addition, it is in the production environment where libraries such as Fusion Charts and PDF are found, for example, in addition to the ZIP code base, and this ends up being one more reason to carry out this update and have these resources duly updated.
Next, we'll see how simple it is to update the production environment:

Download the file from the ScriptCase website
The first step is to access the ScriptCase additional files download page, because that's where the ZIP and TGZ files of the most recent production environment will be.
Right away, we'll find the options for downloading the production environment:


The choice of the extension for download (ZIP or TGZ) is up to the user.

After the download is finished, we can extract the folder into the "_lib" directory of our published project. Our interest is in the "prod" folder (as highlighted in the image below).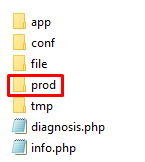 Replacement of current "prod" folder
Once the extraction of the new production environment folder is finished, let's copy the "prod" folder (as shown in the image in the previous step), go to the "_lib" directory of our current environment which is located in the path /project_name/_lib , and paste in place of the current "prod" folder. It will show that there are already files with the same name as the ones we are trying to replace, so just select the "Replace files" option. When the replacement of all files is finished, we can delete the folder "scriptcase-prod-X.X.XXX-en_us" that was extracted into the folder "_lib".

To check if the environment has been updated, just access the "diagnosis.php" file through the browser. This file is located inside the "_lib" folder, that is, "/_lib/diagnosis.php".