See how to generate recaptcha credentials
ReCAPTCHA is an API provided by Google for forms. It adds security, preventing automatic submission of forms through robots.
reCAPTCHA sample:

First, we must request an API Key to activate reCAPTCHA into a Scriptcase application by following the steps below:
To get a Site key and Secret Key go to the link: https://www.google.com/recaptcha/admin#list. See the image: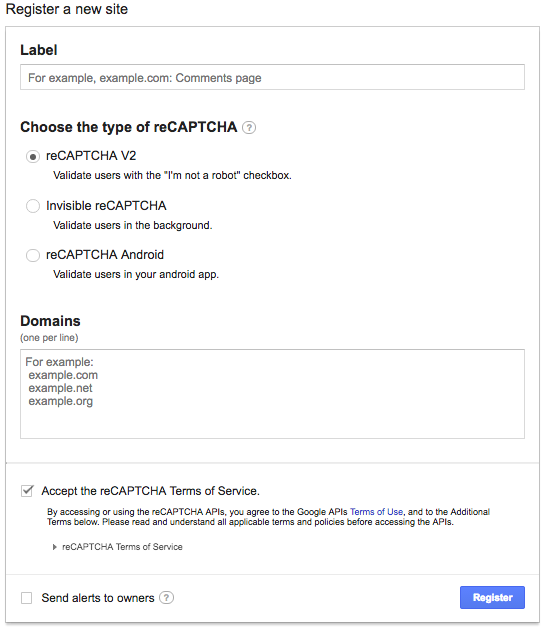 Label

It is a project identifier to create the reCAPTCHA keys.

Choose the type of reCaptcha
We must choose the option reCAPTCHA V2.

Domains

We can insert multiple domains (one per line) to limit the API uses.
Then, we need to accept the Terms of Service ("Accept the reCAPTCHA Terms of Service").

When clicking on Register, the page refreshes and shows the integration of reCAPTCHA information. There we can get the Site Key and Secret Key:


Related Articles

Generating Credentials for Authentication with Facebook

In this article, we will learn how to generate credentials (App ID and Secret) for authentication and access to our project developed in ScriptCase through Facebook. 1 - The first step is to create a Facebook account as a "developer". We need to ...

Generating Credentials for Authentication with Twitter

In this article, we will learn how to generate credentials (API Key and API Key Secret) for authentication and access to our project developed in ScriptCase through Twitter. Account Creation 1 - The first step is to create a Twitter account through ...

How to generate auth_code and token_code

In this article, you can see how to generate the auth_code and token_code, necessary to use the sc_api_upload and sc_api_download. These keys must be generated individually, follow the steps below to generate them without error. To use the upload ...

Enabling DropBox API

This tutorial shows you how to obtain Dropbox access credentials. 1) First, it is necessary to create a Dropbox account. Access the link to create your account. (User must be an administrator). If you already have an account, please proceed to the ...

Authentication with Facebook from a Control application

In the Control application, there is a feature on the left side menu called "Authentications". In this feature, there are authentication options for the Control application with Facebook, Twitter and PayPal. For this article, we'll learn how to use ...
Popular Articles

Examples for diagrams

This tutorial shows how you can import and use the new examples for diagrams released with Scriptpcase V9.2.16. The applications were created using the components: Jsmind, JKanban e Orgchart. - Sample 1: Mind Map diagram Click here to execute the ...

Manual Update - Windows

Before performing any procedure we recommend performing a backup of your projects. To back up Scriptcase: Go to Settings > Administration, in the side menu go to Services > Backup. A file (.ZIP) will be generated with all your projects, save this ...

PHP functions necessary for ScriptCase

In PHP , there are some essential functions for the operation of Scriptcase . On some servers , these functions are disabled , this makes the Scriptcase not work properly. If you're using a shared hosting server, you'll need to contact the host ...

Oracle Connection - Scriptcase 9 - Linux 64 Bits

This procedure will only work if you have a Scriptcase manual installation in your server. Installing PHP 7.0 Installing the Scriptcase Manually To connect with Oracle in a Linux System, we must follow these steps below: Step 1 - Installing these ...

Using friendly URL

The friendly URL was included from Scriptcase 7, in order to make the URL, of the applications generated by Scriptcase, cleaner and easier to associate them with applications. For example, using friendly URLs the link to a Scriptcase application ...